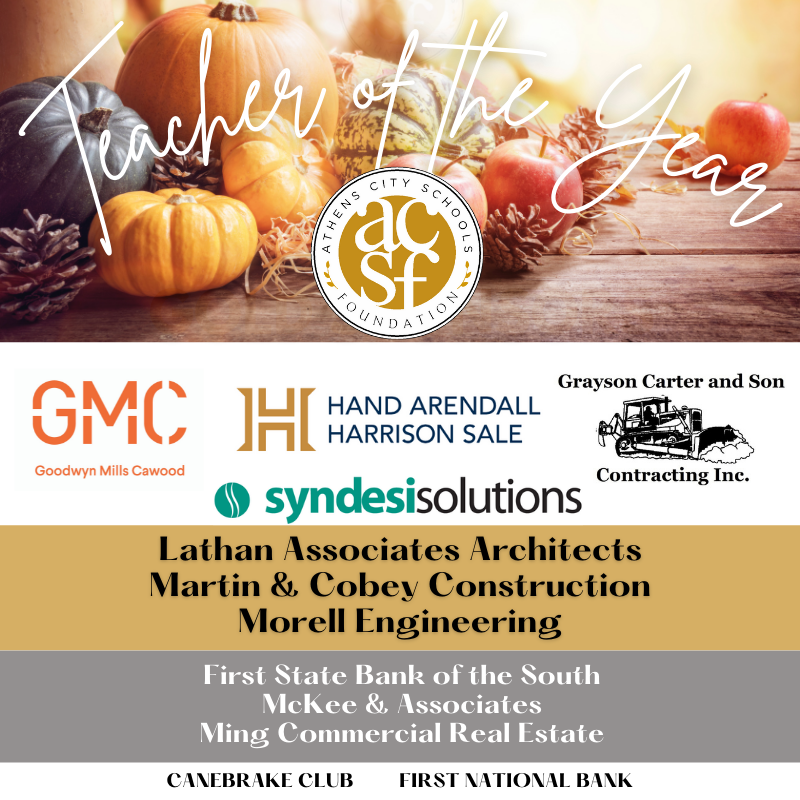 2021 Teachers of the Year
Melanie Daniel

iAcademy at Athens Elementary

Melitta Andris

FAME Academy at Brookhill

Veronica Burls

SPARK Academy at Cowart

Jackie Richardson

HEART Academy at Julian Newman

Daphne Scott

Athens Intermediate School

Melissa Moore

Athens Middle School

Valencia Coppell

Athens High School

Emilee Daws

Athens Renaissance School
6th Annual Teacher of the Year Recognition Event

Truly great teachers seek to inspire hope, ignite the imagination and instill a love of learning. Then they wrap all that inspiration up in the warmth of genuine passion for this most noble profession. Our community and students are fortunate to have schools filled to capacity with truly great teachers. From among the halls filled with outstanding teachers, nominations are made. Each school selects a Teacher of the Year. A district-wide committee then selects one elementary and one secondary Teacher of the Year to represent Athens City Schools at the state competition. The selection committee is made up of five members, including the superintendent of schools, one member of the Board of Education, two Teacher of the Year winners from the previous year, and one parent-at-large from the Athens City Schools system. The selection process is anonymous and meritocratic.

The 2021 Teachers of the Year were announced in September. We look forward to celebrating these teachers and their accomplishments at the Gratitude Banquet, which will be held on November 16 at the Athens State University Ballroom. We are making special adjustments to the banquet this year that take into account the current public health circumstances related to coronavirus. Guests will be limited this year, therefore we will not have tickets available for sale. If you would still like to contribute to this special celebration for our teachers, we welcome you to do so. Click here for sponsorship opportunities or click here to make a donation to the Athens City Schools Foundation.

---

Special thanks to the Athens News-Courier who publishes the Teacher of the Year series each year. This special series highlights each school winner and helps us to celebrate their achievement with the community.