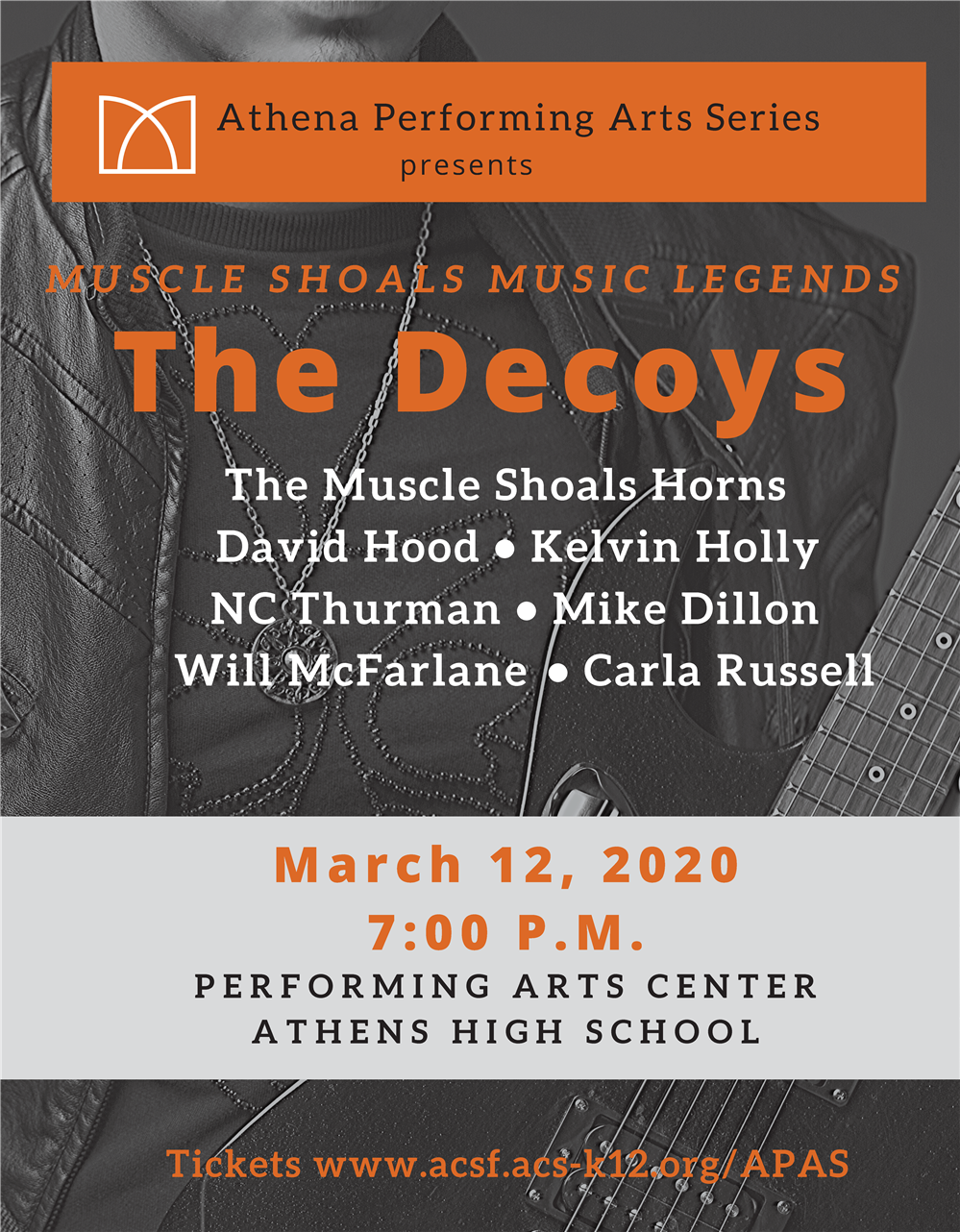 UPCOMING EVENT: THE DECOYS ON MARCH 12!

Muscle Shoals Legends Play in Athens

Check out The Decoys on Facebook now!

A community group in Athens, The Athena Concert Series, is presenting a concert March 12 featuring The Decoys, a band made up of some of Muscle Shoals' great music legends. Many say that The Decoys are responsible for practically half the acts inducted into the Rock and Roll Hall of Fame. Members of this group have performed with music greats such as Aretha Franklin, Bob Seger, Rod Stewart, Paul Simon, Eric Clapton, Hank Williams Jr., and Percy Sledge.

The Decoys are a five-man powerhouse rhythm and blues band, featuring five of the most seasoned musicians, anywhere. David Hood, bass guitarist, was a member of the world famous Muscle Shoals Rhythm Section and has played on a list of albums that reads like a who's who of the music industry, such as Aretha Franklin, Bob Segar, Rod Stewart and many more. Guitarist, Kelvin Holly has long been recognized as one of the South's premier guitarists. He has played and recorded with artists such as Little Richard, Gregg Allman, Little Richard, The Amazing Rhythm Aces, and Bobby Blue Bland. N. C. Thurman plays keyboard, harmonica, guitar, melodica and vocals. He has recorded with greats such as Percy Sledge, Gregg Allman, Hank Williams, Jr. and many more. Mike Dillon completes the band with timing and showmanship on the drums. He has played with Grinders Switch and joined Dickey Betts for two years. He was an original member of the band, Clutch, and was a member of the Country-Pop group, the Shooters. Will McFarland spent six years playing guitar with Bonnie Raitt, from 1974 to 1980. McFarlane left Raitt to move to Muscle Shoals, Alabama, playing on records for Bobby Blue Bland, Little Milton, Etta James and Johnnie Taylor as part of the famed Muscle Shoals Rhythm Section. He was just recently inducted into the Musician's Hall of Fame in Nashville as a friend of the Muscle Shoals Rhythm Section (The Swampers).

The Decoys was formed 14 years ago by veteran record producer, Johnny Sandlin (The Allman Brothers, Delbert McClinton, Widespread Panic…). The band has grown to gain wide respect and recognition. They have performed at City Stages in Birmingham, Big Spring Jam in Huntsville, and the Chunky Blues Festival in Mississippi. The band was featured at the grand opening of the Alabama Music Hall of Fame, and shortly afterward toured Europe and the Mediterranean. They have appeared in concert with the likes of B.B. King, Delbert McClinton, Bo Diddley, and the Allman Brothers. Each member of the band records writes and plays independently in the studio and on the road, but all remain loyal to the DECOYS out of desire to play quality music with people they respect and admire.

Joining The Decoys for the concert will be members of the Muscle Shoals Horns. As a working horn section, the Muscle Shoals Horns, Harrison Calloway, Ronnie Eades, Harvey Thompson and Charles Rose have played on countless hit records and toured with some of the biggest names in the business. They were inducted into the Alabama Music Hall of Fame in 2016. The list of artists the Horns have worked with is long and full of familiar songs. Among them are Bob Dylan, Elvis Presley, James Brown, B.B. King, Bob Seger, Elton John, John Lennon, Jimmy Buffett, Mavis Staples, Boz Scaggs, Clarence Carter, Waylon Jennings, the Temptations and Wilson Pickett. Among the hits they played on were Mel and Tim's "Starting All Over Again," Joe Tex's "I Don't Want to Bump No More With No Big Fat Woman," Delbert McClinton's "Giving It Up For Your Love," and the Oak Ridge Boys' "Elvira" and "Bobbie Sue." In 1974, they toured with Elton John.

Carla Russell will also be joining the band for this event. Carla is a well-known singer in the Muscle Shoals recording industry, and live music scene in North Alabama and Southern Tennessee. In addition to KOZMIC MAMA, Carla also performs with "The Muscle Shoals All Star Band", which includes members of the legendary "Swampers Rhythm Section". She has performed with an array of internationally known artists and at many prestigious events including "The Alabama Music Hall of Fame" induction ceremony. She has backed up artist such as Shania Twain, George Jones, Garth Brooks, Etta James, Willie Nelson, Clint Black, Loretta Lynn and Dusty Springfield.

On Thursday, March 12, the old school blues-rock outfit will play in the Performing Arts Center of Athens High School beginning at 7:00 p.m. Tickets can be purchased at www.acsf.acs-k12.org/apas for $20 or $30 with student tickets available for $10.
About the Athena Performing Arts Series
ABOUT US

The Athena Performing Arts initiative was launched in July of 2018 with the vision of providing increased opportunities for learning, creative expression and civic engagement for all ages within Athens and the surrounding communities.

Working with the Athens City Schools Educational Foundation 501(c) 3 and volunteers from the community, the goal of the Athena Performing Arts Committee is to create a performing arts series that provides professional productions by local, national and international artists to enhance the quality of life of those in the community, expand educational opportunities, and broaden access to the performing arts.

ARTS EDUCATION

Arts Education is part of the vision of the Athens Performing Arts Committee. Whether in the schools or in the community our aim is to engage children, teens, and adults in the artistic process, cultivate appreciation of the performing arts, and make the performing arts a vital and integral part of school and community.

The goal is to invite students to view the Christmas performance each year during a matinee production, participate as "extras" in performances when possible, and develop a Performing Arts Production Program for high school students.

LOCATION

Due to the generosity of the Athens City School Board, performances will be held in the 760 seat auditorium in the new Athens High School.

COMMITTEE MEMBERS

| | | | | |
| --- | --- | --- | --- | --- |
| Kenny Baskins | Martha Griggs | Amanda Holland | Betty Dean Newman | Susan Trent |
| Sheri Baskins | Clare Grisham | Holly Hollman | Jason Quick | Lucretia Woodroof |
| Jennifer Bunnell | Chris Hamilton | Christy Hubbard | Deborah Ford Strain | Greg Young |
| Marcia Day | Barry Hamilton | John Hubbard | Bill Swindell | |
| Amy Golden | Deborah Holladay | Melissa Morell | Maria Taylor | |

FIRST YEAR PLANS

July 25, 7:00 p.m., Singer Songwriter Night

Featuring Jim Parker, Michael Anthony Curtis, Rock Kilough & Matt Prater

March 12, 2020 - The Decoys (musical concert)
April/May 2020 - Musical Concert